Bespoke Stone Tables
Using our bespoke service here at Henderstone we enable our Clients to have the opportunity to create their own design of table be it console, coffee, dining or kitchen.
This service gives total freedom of choice whether to mix and match with an existing set or to create a whole new design of their choice in order to compliment any room indoors or outside.
We can fabricate any design using any stone in order to suit our Customer's requirements. 
Stone tables in the modern and traditional kitchen can continue the 'feel' of a chosen worktop.  It will add an interesting and different focal point in the busy workplace.  For familiies with small children a stone table will be a must!  For pens, pencils and messy eaters a stone table will cope with spillages, marks and foodstuffs by a simple wipe clean and will not require constant protection and maintenance.  Why not create a design which combines both wood and stone or introduce glass for an eclectic contemporary feel.  For a fuss free finish stone is the perfect answer in the kitchen.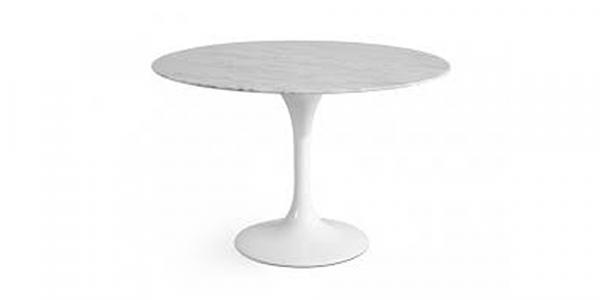 Here at Henderstone we are able to fabricate any shape or size dining table to fit all family and room requirements perfectly.  Large tables may be complemented by bench style seating for example or a mixture of classic material covered dining chairs will look beautiful against a striking stone table.  A more intimate space within the home will love a round table and will seat smaller groups of friends and family perfectly.
Should the home not have a dedicated dining area then a corner seating area and a round table on a french tulip style base will work wonders in a small space. We are here to help and advise with all aspects of design wherever requried.  Whatever the choice of stone or design a stone dining table will last a lifetime.
With virtually no maintenance at all a stone garden table will last a lifetime.  For outside use there is no need to cover during winter or bad weather.  A simple wipe down after use will suffice and will remain looking beautiful for years to come.
It will look fantastic with bench style seating for larger groups of families and friends or mixed with individual metal or wooden seating for smaller, more intimate gatherings. The unrivalled beauty of natural stone will remain the talking point of your garden at any gathering you may have.